As horizontal drilling starts in Lancashire this month, the Guardian talks to protesters and staff at the Cuadrilla well.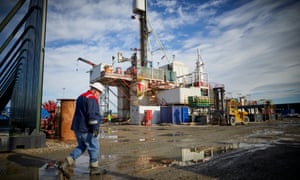 Mike Hill, sitting in his living room a few miles from a fracking site outside Blackpool, is brandishing a government letter brushing aside his concerns about the industry. "You, Theresa May, overruled democracy to force fracking on the residents of Fylde," he says, referring to his own letter to the prime minister, in which he urges her to heed experts' calls for tighter shale gas regulations.
"And then you won't pay attention, the slightest attention, to anybody in regards fracking regulation, fracking monitoring, public health risks, risks to indigenous industries," says the chartered engineer, who used to work in the oil and gas sector.
"I'm not really a protester – I'm an engineer," adds Hill, who won 12% of the vote in the 2015 general election running as an independent candidate in Fylde to raise awareness of fracking locally.